This page is part of © FOTW Flags Of The World website
Maritime Houseflags G-O (Australia)
Australia
Last modified: 2010-09-24 by jonathan dixon
Keywords: gyspum resources australia | gra | huddart parker | hp | hp&co | melbourne steamship co | north coast s.n. co. | m s coy | n c s co | cross (red) | saltire (blue) |
Links: FOTW homepage | search | disclaimer and copyright | write us | mirrors

---
See also:
---
Gypsum Resources Australia

image by Neale Rosanoski, 16 Nov 2008
Gypsum Resources Australia was a CSR subsidiary. Two ships involved in the gypsum/sugar cartage were managed by Austocean Pty Ltd and were under their colours. In 2004 the "Kowulka" changed its livery to that of Gypsum Resources Australia, its registered owner, with the flag from a photo being a dark blue with a white diamond frame enclosing the white combined letters "GRA".
Neale Rosanoski, 16 November 2008
---
Huddart Parker
1912-1961 flag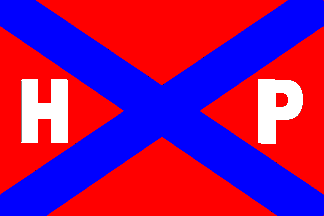 image by Jarig Bakker, 16 Aug 2004
From the link provided by Barbara Tomlinson of The National Maritime Museum http://www.nmm.ac.uk/collections/:
The house flag of Huddart Parker Ltd, Melbourne. A rectangular, red flag with a blue saltire. The letters 'HP' in white are at the sides. The flag is made of a wool and synthetic fibre bunting. It has a cotton hoist and is machine sewn. A rope is attached.
Jarig Bakker, 16 August 2004

Originated 1876 as Huddart, Parker & Co. Pty. Ltd. with a similar flag but having the additional white letters "&" and "Co." in upper and lower quarters respectively which was changed to the simpler version after 1912 when the company went public as Huddart Parker Ltd. Its fleet was disposed of in 1961.
Neale Rosanoski, 9 August 2005
1876-1912 flag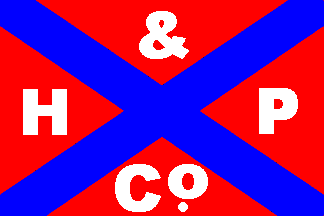 image by Jonathan Dixon, 27 Oct 2005
---
Melbourne Steamship Company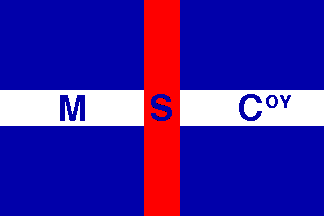 image by James Dignan, 10 Oct 2003
[A blue flag, with a white horizontal band crossed by a red vertical band. The letters "M S Coy" are spread across the white band, with the "S" placed on the red band.]
Source: The dumpy book of ships and the sea [sam57]
James Dignan, 10 October 2003
The Melbourne Steamship Company was formed in 1895 from a merger of three shipping companies.
Phil Nelson, 10 October 2003
According to articles in The Log (Nautical Assn. of Australia) the white and red bands were broad and the lettering was "MSCo" not "MSCoy" with the "o" not being enhanced although an illustration in Marine News 7/1970 shows it being enhanced. This publication shows an image in black and white and does not specify the lettering colour, showing it, like Sampson [sam57], in black. The Log is more specific giving the "M" and "Co" as blue and the "S" as white and portrayed as being slightly larger though it is noted that a company menu, and possibly an actual flag, are known to have shown all blue lettering.
Neale Rosanoski, 17 January 2005
---
Nauru Corp. (Victoria), Inc.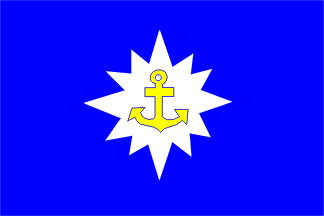 image by Jarig Bakker, 18 Dec 2005
Nauru Corp. (Victoria) Inc., Melbourne - blue flag, in center white 12-pointed star, charged with a yellow standing anchor outlined blue. (note that the Nauru-star has been redone by the ship's carpenter/flaggenist).
Source: Brown's Flags and Funnels of Shipping Companies of the World [lgr95].
Jarig Bakker, 18 December 2005
---
North Coast S.N. Co. Ltd.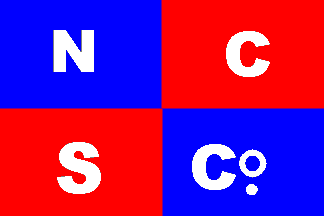 image by Jarig Bakker, 17 Jan 2005
North Coast S.N. Co. Ltd., Sydney N.S.W.: quartered flag of blue and red; in all quarters white "NCSCo.".
Source: Brown's Flags and Funnels of British and Foreign Steamship Companies [wed26].
Jarig Bakker, 17 January 2005
---
O'May Shipping Company
Post 1912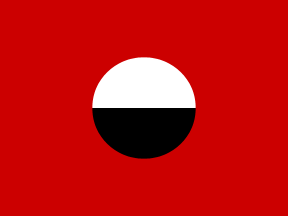 image by Eugene Ipavec, 10 Aug 2009
The site of the State Library of Tasmania briefly presents the O'May shipping company:
"Robert O'May (...) with his brothers, Thomas and James founded the Hobart-Bellerive ferry service. (...) In 1912 the O'May Brothers who owned and operated the trans-Derwent ferries merged with the Rosny Estates Company to encourage property development on the Eastern Shore. The venture failed and the company folded but the O'Mays continued their ferry service. However it became largely redundant when the floating arch bridge (in Hobart) was opened in 1943."
O'May operations started, I believe, in 1870.

A small house flag (part of a display set, not an original) is presented here (image clickable). Described as "red with a black and white centre", this really means a red field bearing, in the centre, a disk horizontally divided white above black.
Jan Mertens, 10 August 2009

Pre-1912 (before merger)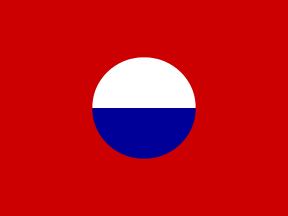 image by Eugene Ipavec, 19 Aug 2009
More pictures from SLT show a disk divided white above blue, such as found in a 1910 Christmas card. This and similar pictures originated before 1912 showing a conjectural O'May house flag preceding the 1912 merger.
Jan Mertens, 10 August 2009
---